Comedy Duo Marianne Bayard and Jonathan Kaplan Announce Pittsburgh Screening & Distribution Deal for "Killing it!"
FOR IMMEDIATE RELEASE
Media Contact:
Marianne Bayard
(339) 368-1816
mtbayard@gmail.com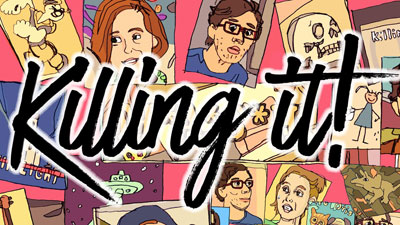 Image 1:

New web series, Killing it!

; [Click image for larger view]
COMEDY DUO MARIANNE BAYARD AND JONATHAN KAPLAN ANNOUNCE PITTSBURGH SCREENING AND INTERNATIONAL DISTRIBUTION DEALS FOR SELF-PRODUCED WEB COMEDY SHOW "KILLING IT!"
New web series, Killing it! – Screening at Steel City Improv February 8, 2018
PITTSBURGH, PA (PittsburghNewsWire.com) — "Killing it!" follows the lives of best friends, Mares and Kaps as they seek out fame and 'meaning' in their 'almost 40-year old' lives. Says Kaplan, "It's a story about to idiots following their dreams, driven by their delusions, committed to their friendship- til death do they part. It's pretty much based on real life"
A premiere screening of all 9 "Killing it!" episodes is scheduled for 8pm February 8, 2018 at Steel City Improv Theater in Pittsburgh, PA followed by an 'excellently dj-ed dance party'.  Creators Bayard and Kaplan will be at the screening. A trailer for the webseries "Blank My Life" staring CMU alum Alex Speith will also be screened.
"Killing it!," is a self produced webseries featuring actor-comedians Marianne Bayard and Jonathan Kaplan.  The series can now be seen on Seeka.tv distributed through their Roku and Apple TV apps, Amazon Prime via ENV Pictures and on the subscription platform Bigop.tv in Latin America.
The distribution deals come after a year of long distance co-creation of the show, says Kaplan. "We live 600 miles apart, and created much of Killing it! via email." The decades of comedy and acting experience between Kaplan and Bayard is evident as viewers on Stareable.com have praised the "unbelievable comedic chemistry" between the leads.
Marianne Bayard is a Pittsburgh, PA resident and actor. She is a graduate of Emerson College and the clown training school Ecole Phillipe Gaulier of Paris, France. She is a proud member SAG-AFTRA. In addition to developing solo Diva parody shows such a Cher and Celine Dion, Marianne has had supporting roles in the movies Joy (2015) with Jennifer Lawrence, Cadaver with Shay Mitchell (to be released 2018) and the TV series Mindhunter (2017) directed by David Fincher.  Marianne recently starred in a local production of Jean Shepard and Philip Grecian's play, A Christmas Story.
Jonathan Kaplan is based in Lindenhurst, NY and performs stand-up at comedy clubs all over NYC. He has toured on the Canadian Fringe Festival Circuit in the Found In New York Productions' plays Fear Forest (2017), This Town (2012) and The Hysteric (2011).  He was a cast member in Long Island's longest running improv group Face Off, and is a regular contributor to the news comedy webseries News To Me on Facebook. Kaplan has been praised by other comedians for his sarcastic wit and exuberant energy on stage.
John Townsen, author of "Clowns: A Panoramic History" and Director at the NYC Physical Comedy Lab, touted the show as "Very funny, highly original, well-acted, edited, and more than a little insane." IndyRed.com enjoyed the show's loose Seinfeld-ian style: "In today's sea of independent web series that take themselves completely seriously – even the comedies, it's refreshing to see a series that simply tries to have some fun."